工业4.0在能源场景中的应用(四)——中段与末段零售的应用
点击上方"蓝色字体",选择 "设为星标"
关键讯息,D1时间送达!
Use case: Industry 4.0 realisation facilitated by InfoQuick

T

echnologies – Midstream and Downstream Retail 
实用案例:工业4.0 在中段与末段零售的应用
Business Drivers

 
Key business drivers are as follows
Delivering capital projects on time and on budget.  

Extend lifetime of assets.

Drive refining costs down.

Safety, Reliability and operational excellence.

Smart Manufacturing concepts and automation in refineries. 

Strategic Growth Global.  

Integrated Platform linking planning and control across the complete value chain. Providing insights on the product and customer for traders and planners.

New channels new markets in the developing world.

Improve the Forecourt Experience and manage customer relationships ensuring an always connected arrangement.  

Simple to do Business.

Shift to electric and hydrogen engines.

Partnering with other retailers such as fast-moving consumer goods, food retail.

Delegated operations.
业务动机
按时按预算交付大型项目

延展资产的生命周期

降低炼厂成本

保持安全、可靠、且良好的运营状态

炼厂的智能制造概念与自动化

全球业务增长战略

一体化平台从规划到实施连接整个价值链条,为交易员及规划部门提供有关产品和客户的有价值洞察信息

 发展中国家的新市场新渠道

改善前端经验与客户关系管理,以确保实时连接

业务简单化

向氢能和电能引擎的转化

与其他零售商合作,如快销品或食品零售商

授权经营
Business model 
The major elements of the midstream and downstream Oil and gas model are as follows:-
Acquisition of hydrocarbon product.

Transportation and storage of product by pipeline, road, rail, marine.

Bulk distribution.

Further processing (refining).

Fuel distribution

 Wholesale and consumer retailing.
业务模式
石油天然气在中游与下游模式的重要环节
获取油气产品

运输与存储的手段,如管道、公路、铁路、海运

大规模分销

进一步处理(如炼化)

燃油的经销

批发与零售
Adoption of Industry 4.0 elements underpinned by InfoQuick Technologies strengths
工业4.0技术应用点 
Figure 5 Midstream / downstream Industry 4.0 themes and InfoQuick support

以下是工业4.0各子技术在各个阶段的应用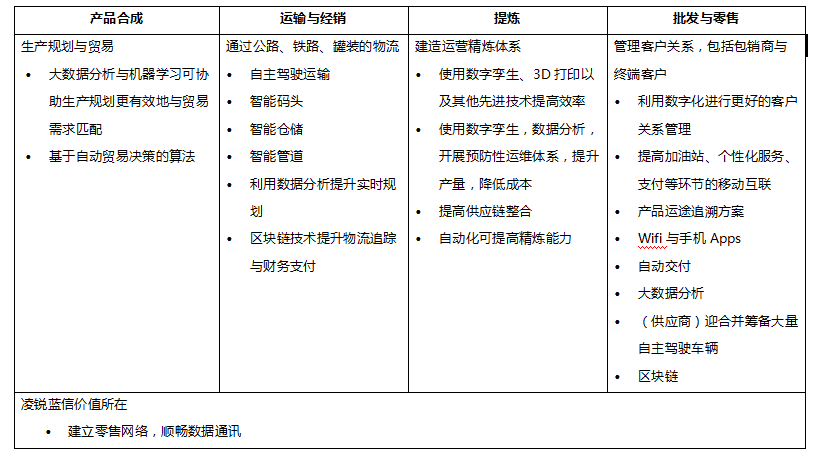 It is worth examining some of these Industry 4.0 related strategies in the slide above in more depth.
Autonomous vehicles impact midstream and downstream logistics in two ways. Firstly, allowing automation of delivery of product to petrol stations and to refineries. Secondly customers will increasingly run driverless automated vehicle fleets dependent on Cyber Physical Systems (CPS) and IIoT technologies. Retail stations will need to integrate with these systems. The supply chain will also need to cater for a range of cars e.g. electric vehicles. InfoQuick DT-WAN capabilities and infrastructure can help underpin these solutions in a cost effective and agile manner.

Blockchain solutions are emerging to assist logistics management and payment transactions again with a dependence on agile connectivity solutions as provided by InfoQuick.

Big data, analytics and AI systems within the Industry 4.0 mix will also help optimise logistics and refinery planning at a level of precision better than traditional methods.

Similarly, big data and analytics will assist downstream oil and gas companies to better understand the overall hydrocarbon supply chain and provide flexible fast and accurate customer experiences.

The 'Digital twin' of an asset and emerging functionality will provide a better real-time view of how a refinery facility is operating against potential and support timely tuning of plant performance as well as risk avoidance. The 'Digital twin' will align with Big Data and machine learning to deliver this.

InfoQuick solutions facilitate the delivery of these capabilities through flexible DT-WAN provision that builds upon existing infrastructure quickly, securely and cost effectively. InfoQuick DT-WAN also provides improved control for an increasingly challenging and complicated network and cloud requirement.
工业4.0非常值得我们深入应用
自主驾驶会从两方面影响中段与末段物流。首先,可以自动运送产品到加油站与提炼厂。其次,客户也会因为更多依靠数字物理系统(CPS)与IIoT,而越来越多使用自主驾驶的车辆群。零售站需要整合这些系统。供应链会迎合这种趋势而提供车辆(比如电动车)。凌锐蓝信的方案,可以支撑这种需求,提高敏捷力、降低成本

新兴的区块链技术协助物流管理与支付转账系统,而顺畅网络是必不可少的,凌锐蓝信可以支持

工业4.0里的大数据分析与AI可以优化物流与炼厂规划的精确度,好于传统方式

大数据分析可以协助下游油气田公司更好地理解天然气供应链并提供灵活,快速,准备的客户体验

油气田的数字孪生与新兴功能可以提供更好的实时监测炼厂设施运行状况,以便更好地确认潜能,并且可以及时调整工厂输出,避免风险。数字孪生需与大数据、机器学习联合使用,才能达到此效果

凌锐蓝信DT-WAN方案,可以支持以上工业4.0方案安全、顺畅连接与运行,降低整体运营成本。并且,可以提高对复杂网络、与云链接等方面逐渐增多的挑战的控制能力
InfoQuick Industry 4.0 focussed architecture and energy industry alignment 
凌锐蓝信,专注于适配工业4.0的技术架构与能源领域基准
InfoQuick is very focussed on aligning its offerings with the Industry 4.0 strategies of its clients. The solution"iCONNECT"has been designed its DT-WAN architecture at all levels (Business process, application delivery, platform provision, connectivity, devices and management) to cover the essential needs of Industry 4.0. It is able to provide the architecture as a service and support clients in establishing autonomous infrastructure and support structures based on InfoQuick technologies.
凌锐蓝信,现为睿智云辉子公司,非常专注于为客户将技术与产品对齐工业4.0标准。为此,公司为产品iCONNECT设计DT-WAN架构的时候,就考虑到业务的整个层面(包括业务场景、应用层、平台层、网络链路、硬件、以及管理),以支撑工业4.0的关键传输需求。架构即服务,支持客户建立自主基础架构。
Critical points in relation to the InfoQuick iCONNECT Industry 4.0 supporting architecture above are as follows:
The architecture is focussed on an understanding of business needs and business processes . InfoQuick are organised as a company to ensure they develop and update business knowledge of the industries sectors they support. This includes the Energy industry covering Oil and Gas and renewables such as wind and solar. InfoQuick are monitoring Energy industry digitalisation and Industry 4.0 initiatives and are keen to work with their clients to develop and deliver related strategies with a global reach.

The architecture is focused on supporting clients needs for a controllable, optimised and secure WAN that will meet their Industry 4.0 needs securely and with agility. The architecture is software managed, and allows for distributed deployment and hybrid client specific architectures that use existing infrastructure (e.g. Hybrid WAN). Specifically, iCONNECT can easy adapt existing client infrastructure and support a range of existing technologies that may already be in place:  cable, MPLS, internet, 4G/5G. This means existing investments can be leveraged and upgraded where needed with InfoQuick solutions to build a high-quality advanced network that meets the needs of Industry 4.0 strategies. For the purpose of this report the solutions that energy companies are looking to deploy in the field are described through section 3.0 to 6.0.

InfoQuick are investing heavily in their solutions, based on the concepts and direction of Industry 4.0. Key pipeline investments include Artificial Intelligence solutions (AI), machine learning, Intend based Networking (IBN), Cyber security classified protection (SASE- Security Edge Access Mechanism), 5G converging technologies that support IIoT solutions. All investments are married to the needs of the sectors they are aligned with.

Information security is at the very heart of the InfoQuick Industry 4.0 enabled architecture and its various products. All offerings are vetted to ensure alignment with national & global cybersecurity and encryption standards.

The critical themes on Energy industry digitalisation requirements are all addressed by the existing InfoQuick Industry 4.0 enabling architecture and specific soluitons (iCONNECT & iGLOBAL). The InfoQuick capabilities are actively being deployed in the customer base.
关键点
基于对业务场景与流程的理解。公司团队掌握并保持最新工业领域相关知识,以便提供客户服务。包括石油天然气领域,以及风能、太阳能。团队一直密切关注能源领域的数字化,并致力于与客户一道努力在全球范围内拓展相关战略布局。

架构本身专注于提供安全、可控、性能优化的广域网,以满足工业4.0所需要的安全、敏捷的网络连接。架构支持分布式部署,并支持客户使用已有架构与线路,搭建更高效的混合广域网

DT-WAN是软件管理形态,因此可以很容易适配客户已有基础架构,如二层物理光纤专线、MPLS、互联网,4G/5G。这意味着客户可以继续使用原有架构,并升级为更高质量的网络以支撑工业4.0,后几章将为读者详细阐述

公司投入重金在技术研发上,以确保更好地适配工业4.0,包括AI,ML,意图导向的网络,网络安全(SASE),5G以支持工业物联网(IIoT). 所有这些投入都与各行

安全,是重中之重。公司所有产品与方案都不断致力于遵循国际与国内的合规性

公司已有两款产品(iCONNECT 与 iGLOBAL),可以支持能源行业工业数字化的一些重要环节,而且正在客户端部署

InfoQuick delivering 5G adaption solution in support of Industry 4.0
(凌锐蓝信提供5G适配方案,以更好地支持工业4.0)
As countries await the availability national 5G networks, InfoQuick, through its existing architecture and technical solutions, can help clients build their own private, on-premise 5G networks right now rather than having to wait. These 5G networks when deployed  can be linked to corporate system infrastructure by InfoQuick DT-WAN iConnect solutions.
凌锐蓝信,通过现有产品iCONNECT可以帮助客户建设私有5G网络,与公司系统和基础架构互联互通。
关注公众号:拾黑(shiheibook)了解更多
[广告]赞助链接:
四季很好,只要有你,文娱排行榜:http://www.yaopaiming.com/
让资讯触达的更精准有趣:https://www.0xu.cn/

企业网D1net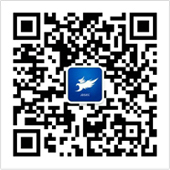 关注网络尖刀微信公众号
随时掌握互联网精彩